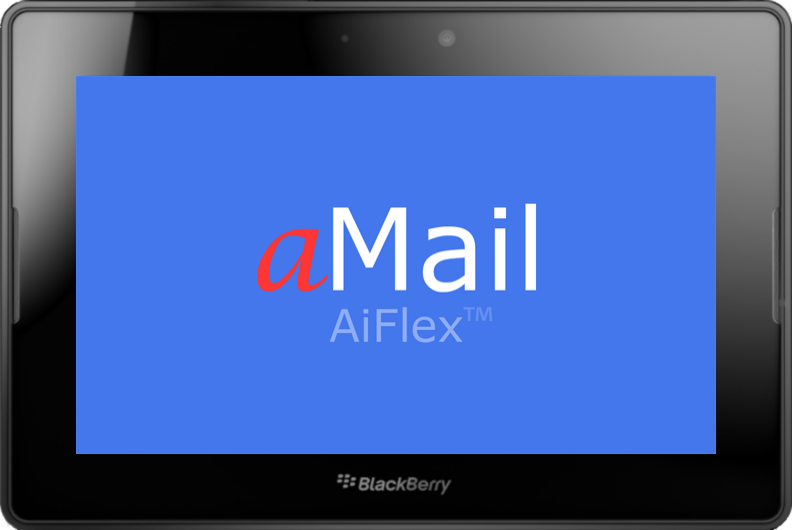 aMail by AiFlex for the BlackBerry® Playbook™ provides native email for multiple accounts in one easy to use App. This App supports IMAP, SMTP and POP3 accounts with secure logon and password details over a secure connection. With easy to setup GMail, Yahoo, Hotmail and Live e-mail preset configurations, which only require username and passwords to setup. It can easily be setup on other providers such as AOL etc. It is like having Outlook or Thunderbird on your Playbook™.
Submitted and Awaiting Approval
Whenever you need to check your email accounts and send a quick email message, aMail makes it all possible.
aMail provides an easy to use interface to manage your mail accounts. Set up an account in seconds with automatic configuration. This native app has advanced features to make best use of the interface to save you time. aMail uses TLS / SSL full authentication.
Screenshots
Features:
-High Performance Native Application
Uses the best features available to sync with mail servers
High performance and rapid message download from accounts
-Secure Access and local file security
Supports common standards of mail system POP3 and IMAP4
Access multiple mailboxes securely (uses SSL / TLS)
User account details are always secure
Local mail files are encrypted
-Easy Message Viewing
Swipe down for email accounts overview.
Use your on device soft keyboard, swiping up from the lower bezel edge for text input.
Animated message transitions.
-Convenience and Ease of Use
Manages up to 10 email accounts separately from within a single App
Work offline when not connected and synchronize later
Direct type input
Smoother interface than using Webmail in local browser
Coming soon attachments, multitouch gestures.
Want updates on aMail and our other products register your email here